You just need to setup some iptables rules and turn on the ip_forward feature in the Linux kernel, assign some IPs and Routes and voila, your PC will become a router.
For example, suppose you have a laptop connected to Internet through a wifi card (let's call it eth1) and you want to connect a PC to Internet through it, using an ethernet cable.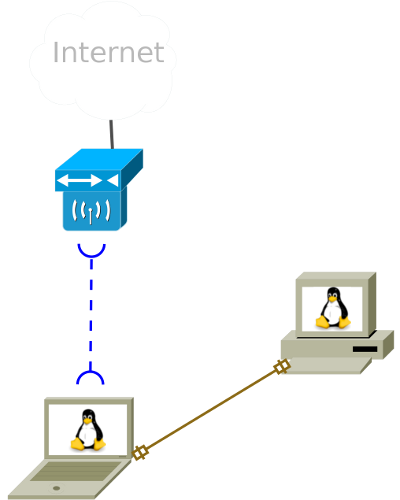 1. First, connect your PC with your laptop.
2. Supposing that both the laptop and PC ethernet interface are named eth0, give an IP address to both. Of course you can do it graphically, but I'll explain here the cli version (using ifconfig):
From the Laptop:

From the PC:
Try to do a ping from the PC to the Laptop and see if there's connectivity.
You can also check that the routes are added correctly on the PC:
And maybe you need name resolution. On the PC, edit your resolv.conf for example using the Google DNS's 8.8.8.8:
3. Now it's time to convert your laptop in a router. Just setup the firewall and the ip_forwarding on the Laptop:
4. Try to navigate from the PC!